Vacancies
Specialists and Executives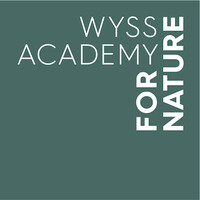 Leverage sustainable solutions for the planet through digital innovations ? You make it possible! 
Digital Transformation Analyst (80-100%)
Joining the Wyss Academy for Nature in Berne, you will actively amplify its mission to achieve a world in which nature conservation and human wellbeing reinforce each other through innovative solutions. How so? By bringing scientists, business leaders, policymakers and communities together to co-design solutions for pressing problems such as climate change, biodiversity loss, land use change and rising inequality. The Academy aims to holistically use the potential of information and communication technologies (ICT) and digitization to transform social-ecological systems toward sustainable development. This is where you step in! You will be part of an adaptive institution with the flavour of a startup in an intercultural, multidisciplinary and highly stimulating environment. On top, you can expect employee friendly working conditions and ample space for innovation and creativity.
Your mission
In this newly created role, you drive the integration and creation of tools and ICT solutions for projects at the Academy's four global Regional Hubs. In close collaboration with the Academy's research teams and business units, you analyze needs, collect technical requirements, and accompany your colleagues in realizing applications in the field of sustainability and nature – such as mobile applications, remote sensing, machine learning, natural language processing, or distributed ledger technologies (DLT). With the same purpose, you conduct business and process analyses, modeling and requirements engineering. Examining their feasibility and complexity as well as the effects on existing or planned systems, interfaces, standards, and guidelines is "part of the game". The same applies to co-designing innovative digital solutions with all parties involved and managing specifications of complex ICT projects according to strategic objectives. As a gifted networker, you know how to cooperate with a wide range of intercultural stakeholders and to expand your circle of professional partnerships.
Your profile
Our ideal candidate has a university degree in information technology, computer science or engineering, supplemented by a total of at least ten years of working experience in ICT or business consulting and app development. Ideally, this took place in the fields of sustainability, nature innovation or natural sciences. International professional exposure to development cooperation is a plus. Your vocation is to identify innovations and opportunities for process optimization, and to develop and implement them using suitable technologies. Project and stakeholder management skills are among your key strengths, permitting you to juggle global projects in a competent and timely way. Certifications in SCRUM, CPRE, and other agile methods are an advantage. The global structure of the Academy requires leadership talent across all internal and external levels. Excellent communication and negotiation skills in English and German are therefore essential. Working both autonomously and interactively with other team members, you demonstrate a service focus and a strong sense of responsibility. Thanks to your initiative and tenacity, blended with a well-structured and creative approach, you play a vital role in contributing to the Academy's further development. On a personal level, you are an open-minded personality with a hands-on attitude.
Sabine Biland-Weckherlin will be happy to answer any questions you might have and looks forward to receiving your complete application in English (letter of motivation, CV with photo, work certificates, and diplomas) in pdf format.
da professionals ag
Specialists and Executives
Florastrasse 49, CH-8008 Zürich
Telefon +41 44 421 77 11