Vacancies
Specialists and Executives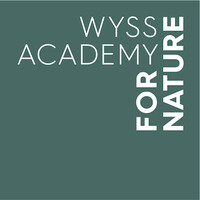 Creating a better future in a just and sustainable world – together!
Head of Communication 80-100%
Joining the Wyss Academy for Nature in Berne, you will actively amplify its mission to achieve a world in which nature conservation and human wellbeing reinforce each other through innovative solutions. How so? By bringing scientists, business leaders, policymakers and communities together to co-design solutions for pressing problems such as climate change, biodiversity loss, land use change and rising inequality. To reach these ambitious goals, communication plays a vital role. At Wyss Academy, you will be part of an adaptive institution with the flavour of a startup in an intercultural, multidisciplinary and highly stimulating environment. On top, you can expect employee friendly working conditions and ample space for innovation and creativity.
Your mission
As a member of the extended management team, supported by two colleagues on site and peers in Latin America, East Africa and Southeast Asia, you are leading, shaping and implementing a visionary communication strategy. Promoting the visibility of the Wyss Academy, you will be responsible for planning, organizing, coordinating and leading the activities of the communication team. You will further develop and implement high-level communication on different platforms and channels, including content for the web, print, digital and social media. You prove to be a true "master of your trade" when it comes to both strategic conception and hands–on messaging. In addition, you will carry out change management projects, organize events and be accountable for the communication budget. The new Head of Communication has various roles in one, being a mentor for the communication team, an advisor to the executive management, an artist when it comes to combining scientific insight with transformational impact, an intercultural cultural bridge and a gifted networker with respect to local and international stakeholders and relevant institutions.
Your profile
Together with a university degree in communications, journalism or similar, you have at least ten years of relevant experience in corporate communication in a cross-cultural and international environment, an NGO or sustainability driven organization at the interface of innovation, society and nature. Proven management skills and a comprehensive understanding of strategic and operational communication as an integral part of societal transformation are also job relevant. You are a strong visionary and creative personality with familiarity and passion for the sciences, nature and sustainability. Excellent copywriting and editing skills in professional English are a must, while German is a plus. Proficiency with the MS-Office, publishing systems, CRM and Adobe software (InDesign, InCopy and Photoshop) are mandatory. In previous roles you have learnt to stand up for your ideas while never losing sight of the bigger picture. You make a point of paying high emphasis on efficiency and meeting tight deadlines without compromising on the quality of your work. Your reliability, flexibility and pioneer spirit help you to stay ahead of the curve of a dynamic organization. From a personal point of view, you are valued as an authentic, easy-going and pragmatic asset to the team.
Sabine Biland-Weckherlin will be happy to answer any questions you might have and looks forward to receiving your complete application in English (letter of motivation, CV with photo, work certificates, and diplomas) in pdf format.
da professionals ag
Specialists and Executives
Florastrasse 49, CH-8008 Zürich
Telefon +41 44 421 77 11